Is your nonprofit arts organization looking for new board members with fresh ideas, unique skill sets, and a passion for the arts? Apply to attend our Arts Board Matching event by submitting an interest form. Forms are due by September 30th.
About the Arts Board Matching Program
Arts Board Matching promotes dynamic leadership in the arts community by cultivating the skills needed to be effective, engaged board members and making matches between vibrant business professionals and arts organizations in need of board members. We believe there is exceptional talent from all levels of management within corporations who can make great contributions to our arts nonprofits.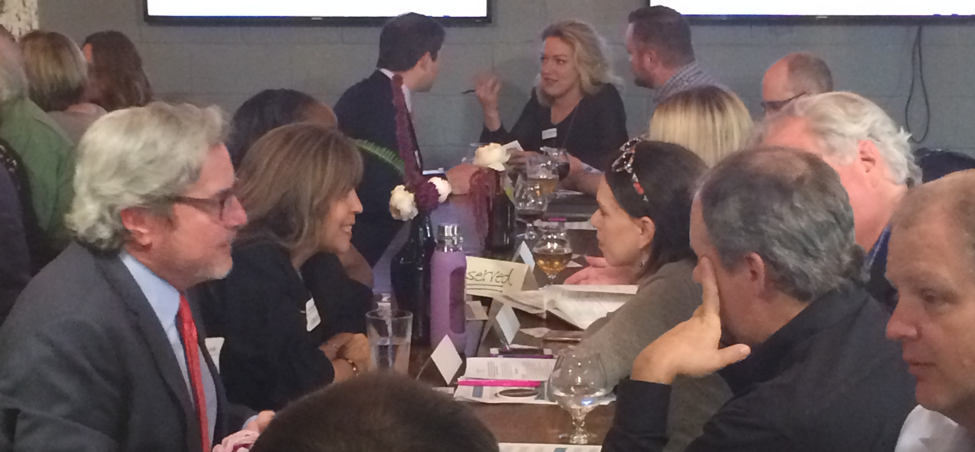 By serving on a nonprofit board of directors, professionals learn to lead and influence people, take risks, resolve conflicts, practice creative decision-making, and help strengthen the community. Business participants gain: an extensive and diverse exposure to the arts industry; opportunities to network with arts organizations and other professionals across industries; and the chance to work in a visible role with other community leaders. Already on a board but need a brush-up? We have a few spots saved for you as well! Please indicate this in your application.
The Ideal Candidate for Arts Board Matching…
– Holds a mid-level position
– Desires to serve an arts organization
– Seeks to network with a variety of individuals
Business participants are equipped for board service and success in the arts at four half-day workshops that include tours of Nashville arts institutions. All workshops are 1:30 – 4:00 p.m. After completing the workshops, participants will be invited to attend a speed-dating style matching event, where they can interact with representatives from local arts organizations.
Highlights of past company participants include: Bank of Nashville; Baker Donelson; Bradley; Bridgestone; Earl Swensson Associates; Emma; Faulkner Mackie & Cochran; First Tennessee; JP Morgan Chase; Lattimore Black Morgan & Cain; Nashville Electric Service; Oak Tree Properties; and Patterson.
Highlights of past arts organization participants include:  Alias Chamber Ensemble; Nashville Children's Theatre; Nashville Opera; Nashville Shakespeare Festival; Nashville Symphony; The Porch Writers' Collective; Poverty & the Arts; Southern Word; Street Theatre Company; Tennessee Craft; and Your Heart on Art.
Arts Board Matching Schedule:
Workshop #1: An Overview of the Arts Industry
Wed., Oct. 11, 1:30 – 4:00 pm (followed by a reception from 4-5:30 p.m. for current class members, alumni and arts leaders).
Workshop #2: Governance & Advocacy
Wed., Oct. 18, 1:30 – 4:00 pm
Workshop #3: Legal & Financial Responsibilities
Wed., Oct. 25, 1:30 – 4:00 pm
Workshop #4: Fundraising & Strategy
Wed., Nov. 1, 1:30 – 4 pm
Matching Event
Wed., Nov. 8, 5:00 – 7:00 pm
For Business Professionals: Applications for the 2017 class are closed. To be considered for the 2018 class, please email a copy of your resume and a cover letter expressing your interest in the Arts Board Matching program to abrassel@abcnashville.org. Program fee is $750 (most participants' companies/organizations are willing to pay this fee, but some pay it themselves).
For Arts Organizations: Interested in being matched with a business participant? Fill out our Arts Organization Interest Form. An information session will be held in the fall giving you the opportunity to ask questions and get more information. Keep in mind, not every organization may be able to be paired with a board candidate.
"Street Theatre Company has been fortunate enough to have participated in two Speed Dating sessions with the Arts Board Matching program and with great success. The two board members who joined our organization thanks to the program are dedicated and committed to the organization, have skill sets that were very much needed on our board, and have a great understanding of what it means to be an active board member.   We are grateful for this program!" – Cathy Street, Street Theatre Company

The panel with executive directors of arts organizations at the first workshop was great! The discussion offered the most useful information about the arts community and our future role as board members." – Rocky Arnold, Earl Swensson Associates