The Arts & Business Council, Blackbird Media, and F&M Bank have teamed up to present the Artist of the Week on The Nashville Sign. This week's featured artist is Olasubomi Bashorun!
Ola is a visual artist who creates with paint, graphite, and mixed media. He just completed a series of paintings and mixed media pieces with the intention to capture movement, using ballerinas as his subjects.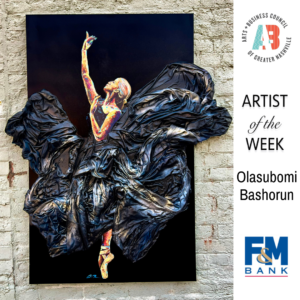 "My vision is to not only create beautiful and aesthetic works of art but to introduce and express my thoughts, and feelings. My intention is to connect with others using art to evoke strong emotions and get them to feel."
Olasubomi Nurudeen Aka-Bashorun was born in Lagos Nigeria, and grew up in Edmond, Oklahoma. Before making Nashville his home, he was a student athlete at Oklahoma Baptist University, where he double majored in family psychology and studio art.
Ola has received various best-of-shows over the years in regional competitions for both his paintings and his graphite pieces. You can easily enjoy his work all over the Nashville area by visiting his murals at E3 Chophouse, Edley's East, Yada on Franklin, Red Bicycle and more. On a rainy day, head indoors to see his work at Ascend Amphitheater, Indo Nashville, and Studio/Gallery in Clarksville. His new Ballerina series is currently on exhibit and for sale at the Nashville Ballet through February 2023. 
To learn more about Olasubomi Bashorun and his work visit his website www.draftsbyola.com or follow him on Instagram.
---
Want to be featured on The Nashville Sign? Visual artists working in any medium, who are members* of the Arts & Business Council at the Basic Level ($30 annually) or above, are eligible to apply for Artist of the Week on The Nashville Sign.
*Those unable to become members due to financial barriers can be granted a waiver. Contact us at info@abcnashville.org to be confidentially considered for a waiver.