The Arts & Business Council, Blackbird Media, and F&M Bank have teamed up to present the Artist of the Week on The Nashville Sign. This week's featured artist is Holly Carden!
Holly Carden, a Periscope alum, is a British-American traditional and digital illustrator who creates in the whimsical, highly detailed "wimmelbilderbuch" style.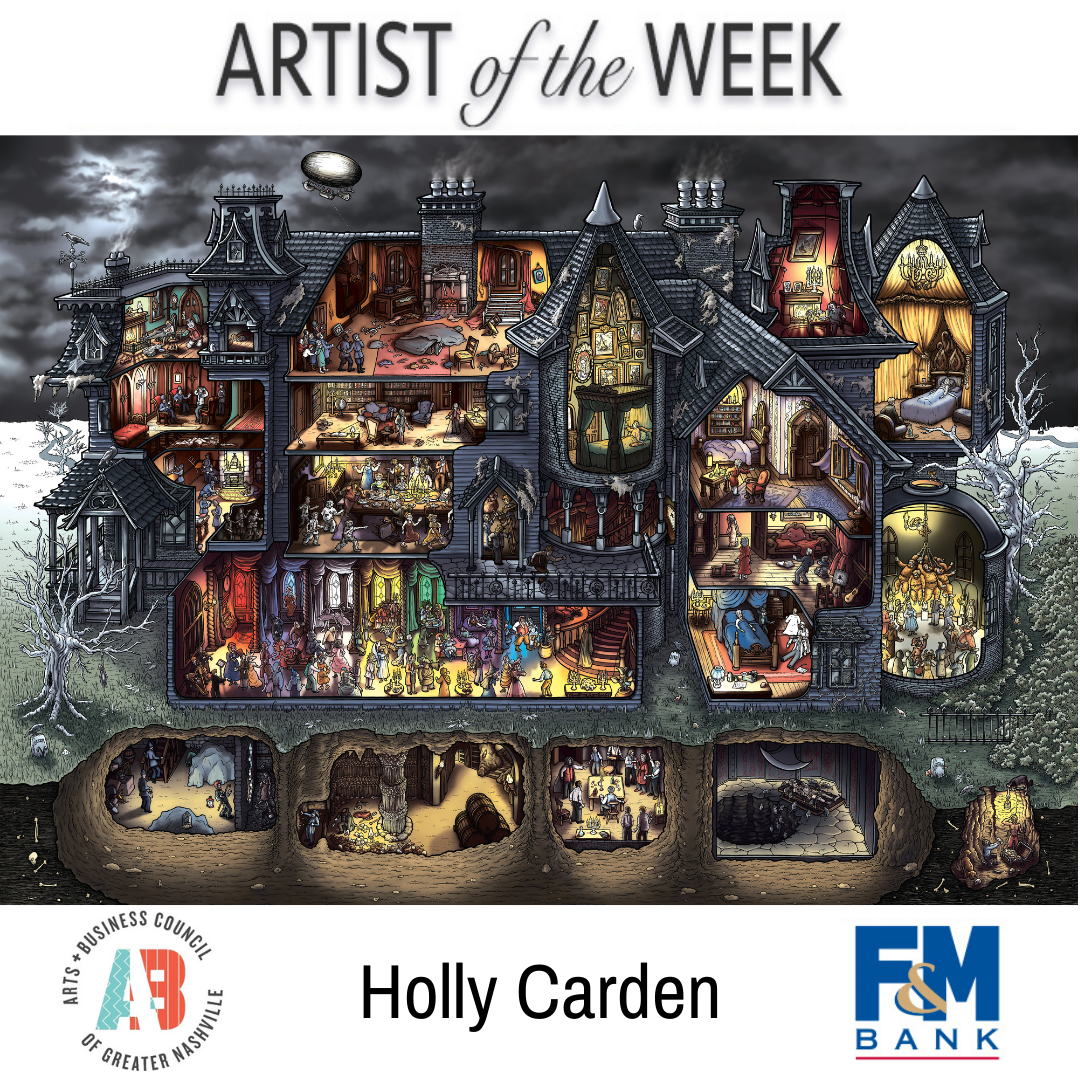 Wimmelbilderbuch (German for "teeming picture book") are large-format, wordless books. They are characterized by full-spread drawings depicting scenes detailed with human characters, animals, and objects sometimes hidden within the illustration.
"I aim to create works that celebrate their subject while explaining complex ideas and narratives…I combine traditional and digital mediums in an attempt to revive the classic art form and captivate viewers as they revel in the details."
A 26-year resident of Smyrna, TN, Holly graduated from Watkins College of Art, Design & Film in 2015, then launched her freelance business Carden Illustration. Her local clients include the Nashville Scene, Urban Winery, the Nashville Zoo, and the Ryman Auditorium. She also has a line of jigsaw puzzles. 
Specializing in high-detail, hand-drawn architectural cutaways and maps, Holly's pictures are charming and playful, yet grisly and technically precise. No detail is arbitrary, as each serves a role to tell a big, crazy story.
To see more of Holly Carden's work, visit https://hollycarden.com/. 
---
Want to be featured on The Nashville Sign? Visual artists working in any medium, who are members* of the Arts & Business Council at the Basic Level ($30 annually) or above, are eligible to apply for Artist of the Week on The Nashville Sign.
*Those unable to become members due to financial barriers can be granted a waiver. Contact us at info@abcnashville.org to be confidentially considered for a waiver.